How it Works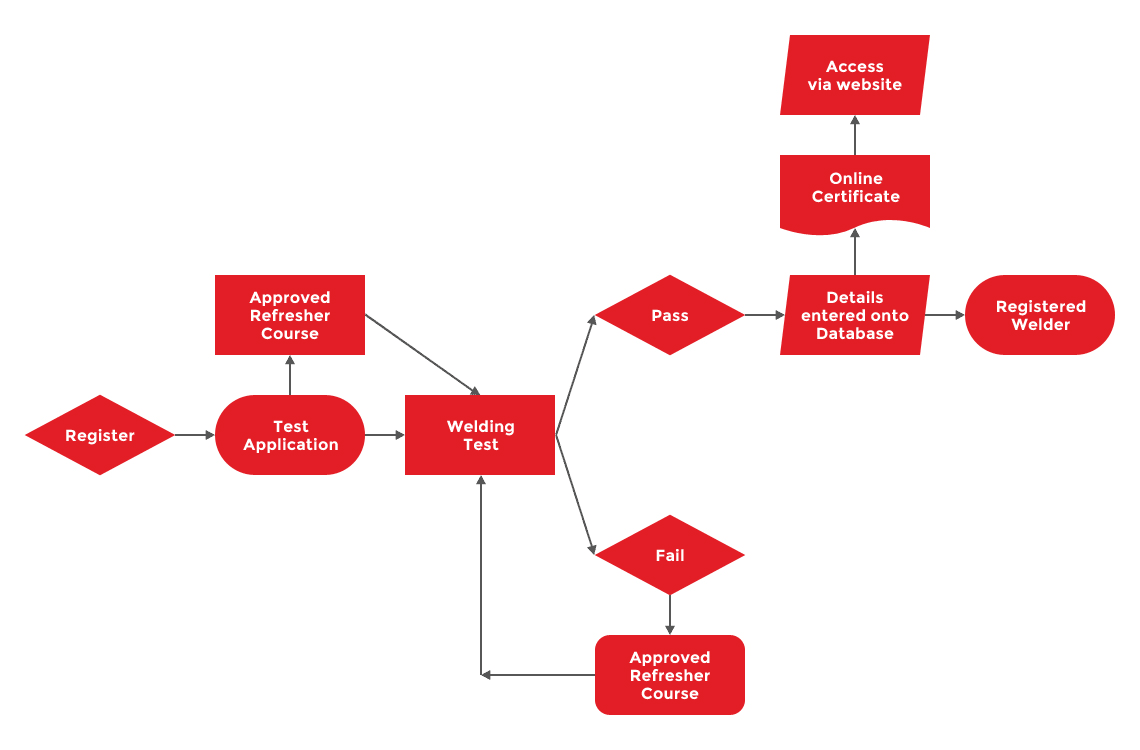 ---

WELDER CERTIFICATION PROCESS OVERVIEW
Welder registers on the WeldQ system AT NO CHARGE.
Selects industry specific or Weld Australia generic weld test program.
Reviews welding procedures required for the program.
Registers for the program PAYS APPLICATION FEE.
Testing Centre or Approved Examiner contacts welder to arrange weld test. THERE IS A SEPARATE CHARGE FOR THE TEST PAID DIRECTLY TO THE TEST CENTRE OR EXAMINER.
Once qualified, test details are entered onto the WeldQ system by the examiner.
The WeldQ system generates an online certificate covering details of process. Sample Certificate
Certification is valid for up to 2 years' subject to 6 monthly confirmations by a responsible person (Supervisor or Approved Examiner).
At the end of the 2 year period certification must be re-validated by an Approved Examiner.
Welders whose certification is recorded on the AWCR are known as Registered Welders (RW).
Details of all Registered Welders are available to Weld Australia Corporate, Premium Corporate and SMART Members.
---
RE-TESTING
In the event that an applicant fails a welding test, they will be required to re-apply for a further test. Weld Australia strongly recommends that an approved refresher course is completed before attempting a Re-test.  There will be no Weld Australia registration charge for the first Re-test but there will be testing charges levied by the Examiner and or Testing Centre.
---
THEORY PAPER
In order to completely fulfill the general theory requirements of AS/NZS ISO 9606-1, Registered Welders not qualified to AS2214 or AS1796 should complete Weld Australia online courses Welding Fundamentals -Basic and Welding Fundamentals – Advanced before they are due for 2 year re-certification.